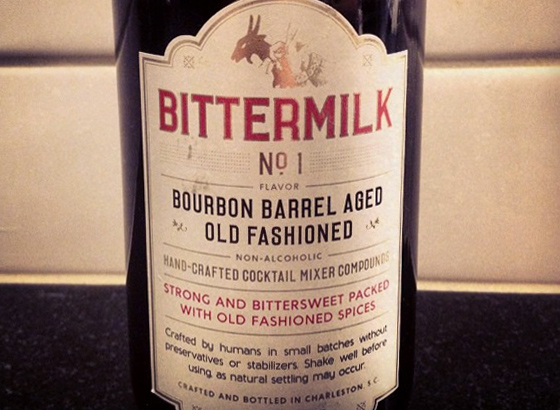 In honor of Bourbon month, I'm dedicating this post to a great little craft mixer that my wife brought back from a recent trip to Charleston, SC. I don't always go for a cocktail, but if you like an old fashioned, you probably know it's kind of a pain to make. Bittermilk Bourbon Barrel Aged Old Fashion is an incredibly easy and tasty way to make one without the fuss. Here's the gist:
Fill a rocks glass with ice
Add 4 parts Bourbon (or Rye)
Add 1 part Bittermilk No. 1 Flavor
Rub a orange rind around the rim of the glass and throw it in
Stir
I had Maker's Mark on hand, so that's what I used.  The Marker's worked well since the sweetness is high and the orange rind complimented the maple flavors. After a few minutes, the ice melted a bit and the drink mellowed even more.
Buttermilk Bourbon Barrel Aged Old Fashion is made with burnt cane sugar, orange peel, gentian root, and cinchona bark, then aged in Willett Bourbon barrels. The label touts that it's made by humans without preservatives or stabilizers. The result is a rich mix of flavors that will not disappoint.
Enjoy!